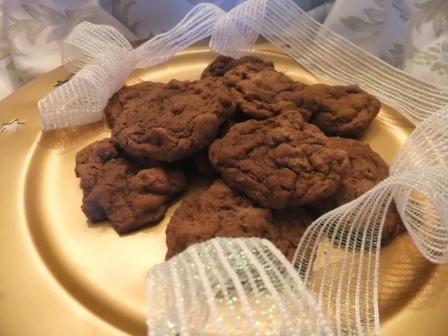 BLACK GOLD COOKIES
6 tablespoons flour
½ teaspoon baking powder
½ teaspoon salt
10 ounces semisweet chocolate
chopped into ¼ inch pieces
2 ounces un-sweetened chocolate, chopped into ¼ inch pieces
6 tablespoons unsalted butter
2 large eggs
½ cup granulated sugar
2 teaspoons pure vanilla extract
Preheat oven to 325. Sift together flour, baking powder and salt. Melt 6ozs. Semisweet chocolate, un-sweetened chocolate and butter in double boiler, stirring until smooth (about 6 min.) Place eggs, sugar & vanilla in bowl of an electric mixer fitted with a paddle. Beat on medium 4 minutes, scrape sides, then beat 2 minutes. Add the melted chocolate and beat for 1 more minute. Add dry ingredients and remaining chocolate pieces and mix until thoroughly combined. Use a heaping tablespoon of dough for each cookie. Bake on middle rack for 9 – 10 minutes. Cool on baking sheet until set, then transfer to wire rack. Makes 3 dozen yummy cookies!!
RASPBERRY LINZER ROUNDS
1 ¼ cups granulated sugar
1 cup butter flavor Crisco
2 eggs
¼ cup light corn syrup
1 teaspoon vanilla
1 teaspoon almond extract
3 cups all-purpose flour
1 cup ground almonds (about 4 to 5 ounces)
¾ teaspoon baking powder
½ teaspoon baking soda
½ teaspoon salt
½ cup seedless raspberry jam
Confectioners sugar
Placegranulated sugar and shortening in large bowl. Beat at medium speed of electric mixer until well blended. Add eggs, syrup, vanilla and almond extract; beat until well blended and fluffy.Combine 3 cups flour, ground almonds, baking powder, baking soda and salt. Add gradually to shortening mixture, beating at low speed until well blended.
Divide dough into 4 pieces; shape each piece into a disk. Wrap with plastic wrap. Refrigerate several hours until firm.
Heat oven to 375° . Sprinkle flour on large sheet of waxed paper. Place disk of dough on floured paper; flatten slightly with hands. Turn dough over and cover with another large sheet of waxed paper. Roll dough to ¼" thickness. Remove top sheet of waxed paper. Cut out with 2″ floured scalloped round cookie cutter. Place 2″ apart on un-greased baking sheet. Repeat with remaining dough. Cut out centers of half the cookies with ½" round cookie cutter.
Bake one baking sheet at a time for 5 minutes. Do not over-bake! Cool 2 minutes on baking sheet and then remove to cool completely.
Spread a small amount of raspberry jam on bottom of solid cookies; cover with cut-out cookies, bottom sides down, to form sandwiches. Sift confectioners sugar over tops of cookies.
Makes approximately 2 dozen cookies. Mmmmm…
GRANDMA BETTY'S MOLASSES CRINKLES
¾ cup shortening
1 cup brown sugar
1 egg
¼ cup molasses
2 ¼ cups all-purpose flour
2 teaspoons baking soda
¼ teaspoon salt
¼ teaspoon cloves
½ teaspoon cinnamon
½ teaspoon ginger
granulated sugar
Mix shortening, brown sugar, egg & molasses thoroughly. Measure flour by sifting. Blend all dry ingredients; stir in molasses mixture. Chill. Roll dough into 1 ¼" balls. Dip tops in sugar. Place balls, sugared side up, 3″ apart on greased baking sheet. Bake 8 to 10 minutes, at 360º, just until set but not hard. (Double recipe makes 3 cookie sheets full) Enjoy!!