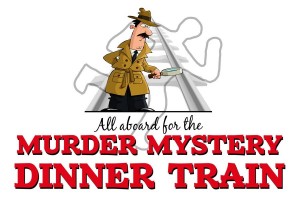 As a participant in this exciting event, you will embark on a three hour excursion on the rails of the Conway Scenic Railroad in the Mt. Washington Valley.  You will be served a delicious 3 course meal as you are mesmerized by a theatrical performance you won't soon forget!  Passengers can participate as much or as little as they like in the tongue in cheek humor and zany antics that will keep everyone on their toes as they work the clues to determine the killer on board.
This years theme is Murder on the Disorient Express
Motheby's, the prestigious auction house, is celebrating their most successful auction ever – a lot of rare and invaluable railroad memorabilia from the estate of Cornelius Vanderbilt has sold in the millions. The gem of the collection, a painting of the famous Frankenstein Trestle is the final item to be auctioned at the gala event aboard the Disorient Express. With all this money on the line you can be sure every last living heir of Vanderbilt will be on hand to try to claim what they can for themselves. Not everyone makes it out alive!
Due to the nature of the performance, tickets are for Adults only (18 yrs and older)
Trains are scheduled to leave the station on Saturday night  June 6th,  Friday night October 23rd, Saturday night October 24th, Friday night October 30th and Saturday night October 31st.
Our special package rate of $450.00 per couple, which covers all taxes and gratuities, includes two nights lodging  with a full country breakfast each morning, two tickets to the Murder Mystery Dinner Train which includes a three hour train ride, two three-course dinners (alcoholic beverages additional) and a theatrical murder mystery performance.