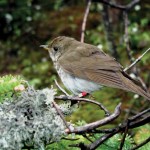 The rare Bicknell's Thrush can be viewed on Mt. Washington during the month of June.  The birds prefer the unique harsh climate due to the combination of low vegetation and abundant moisture.  The two hour guided tour leaves early in the morning, at 6:00 AM, before the auto road opens to the general public to cause as little disturbance as possible.  For more information on the tour, check out the Mt. Washington Auto Road website.
Our two night package includes two tickets for the tour, lodging for two people in a room with a queen size bed and a private bathroom, breakfast each morning (to-go on tour day), a souvenir hot beverage mug for each of you to take with you on the tour and afternoon refreshments for only $298.00 plus tax.
The tour dates for 2019 are June 2nd, 4th, 6th, 8th & 12th.